Free domestic shipping on orders $70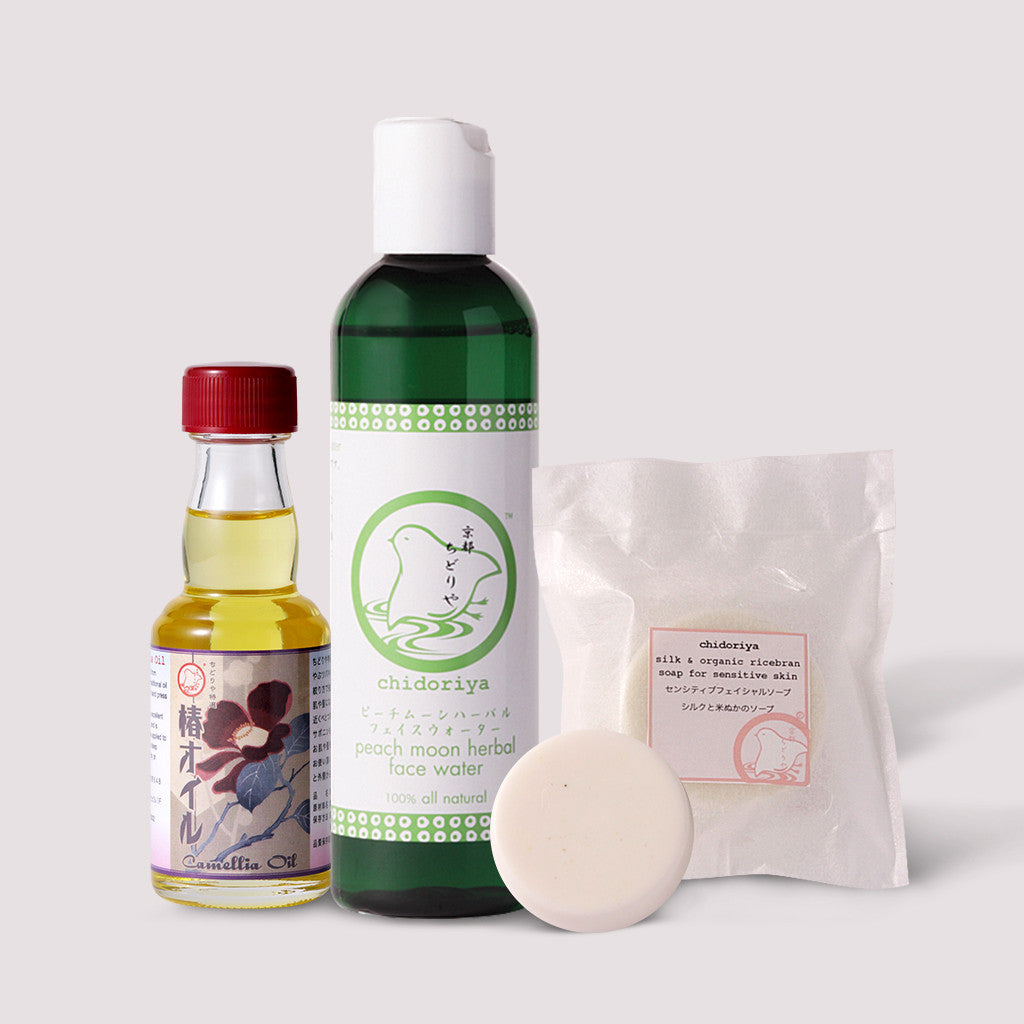 The Perfect Starter Kit
$133.00 $120.00
Consisting of Chidoriya's finest skincare: Silk & Rice Bran Facial Soap, Peach Moon Herbal Water, Camellia Oil
Silk & Rice Bran Facial Soap
Chidoriya Silk & Rice Bran Facial Soap is made from pure vegetable oils and original aroma blend oil tennyokoh, combined with pure silk powder which prevents skin irritations and blemishes. It also contains vitamins and mineral rich Komenuka Rice Bran Powder to nourish and maintain healthy skin. 

Natural enzyme from the rice bran helps to dissolve dead skin cell and blemishes, while retaining moisture. Pure aroma oils will gently maintain your skin's health and the scent will help to ease & relax both your mind & body. 

The rice bran powder that is used in this soap is roasted thoroughly by hand. Pure rice bran contains various nutrients, such as; fibers and minerals, iron, starch, sugar, magnesium, calcium, Vitamin B1, 2, Vitamin D etc.  
DIRECTIONS: 
Rub soap until small bubbles appear on hands. Use a gentle massages action over the skin. Rinse well with water. Recommended to use Peach Moon Herbal Water after cleansing.
INGREDIENTS: 
Saponified Organic Oil of Palm & Coconut, Vegetable Glycerin, Water, Sugar, Lavender oil, Geranium oil, Rosemary oil, Rice bran powder, Palmarosa oil, Maychang oil, Silk powder, Benzoin oil, Cedar wood oil, Nigari, Soy bean extract
Peach Moon Herbal Water
A wonderful rejuvenating natural herbal water is distilled extract of Gettou (a native plant to Okinawa, is part of the ginger family) Alpinia Zerumbet leaves which traditionally has been used as Japanese herbal medicine, also has a variety of uses in creating aromatherapy essential oils, traditional paper products and sticky rice cakes & delicious sweets! 
It has anti-inflammatory properties and works as a natural preservative. It removes excess oil from the skin, whisks away impurities that usually lead to blemishes and breakouts and helps to prevent acne.
Gettou Alpinia Zerumbet helps to enhance the skin structure by the synthesis of collagen, making it an excellent skin emollient where it helps to retain skin moistures. The results, you look healthier, firmer and younger looking skin! 
It contains Kawain & Polyphenols (34 times more than what's found in red wine) to help compound collagen, elastin, anti-aging and anti-wrinkle properties. 
It can also be an excellent soothing remedy for use in relieving the discomfort of sunburned, snow-burned and/or wind burned skin. 
DIRECTIONS:
Use after cleansing. Apply evenly on face and neck with a cotton ball and gently press onto the skin. Use at any time you need to freshen up, relax and rehydrate your skin.
INGREDIENTS:
Alphinia Zerumbet (shell ginger) Hydrosol, Grapefruit Seed Extract (natural preservative)
Camellia Oil
Pure Camellia Oil has excellent skin (face, body, hands) and hair conditioning properties. It moreover presents skin restructuring and moisturizing virtues and is also used for its nail strengthening property. 
Our Original Pure Camellia Seed oil has been manufactured by the traditional hand press technique. This family factory has been known as an excellent quality maker in Kyusyu, Japan. 
Our light textured Camellia Oil has a very similar consistency to Oleic Acid which is naturally produced by the skin and known for its deeply penetrating quality. The fruit (looks like a nut) contains mainly oleic acid (86%), Palmitic Acid, Linoleic Acid Omega 6, Stearic Acid and Arachidic Acid. 
The Japanese have always used camellia oil for face, body, hair and scalp care. It doesn't need any synthetic antioxidant preservative, because the camellia oil's content will work its own preservative. This is an ideal item for dry and sensitive skin. We import from Kyusyu Island to keep the fresh quality of a wild camellia. 
It works as a wonderful moisturizer for people, who fly all the time Your skin gets so dehydrated on the plane. Please remember to keep your skin hydrated. It will help moisturize your skin immediately. 
DIRECTIONS:
BEFORE SHAMPOO (for very dry and damaged hair):
Massage into scalp and ends of damaged hair, rinse and shampoo.
AFTER SHAMPOO (for all types of hair):
Apply oil to ends of hair and dry patches of scalp to deep condition.
USE AS HAIR OIL TREATMENT (for all types of hair):
Apply 1 – 2 drops to palm of hand, rub palms together, apply to the ends of your hair and work your way up using your fingers like a comb. It makes your hair super silky and lustrous! This oil application is good for the hair before heat styling to add shine. And/or after styling for increased style and contrast.
INGREDIENTS:
100% Camellia Sinensis Seed Oil (Food-grade)